I guess I've never thought of myself as a "travel photographer"… it's just something I've always done.
Take a trip, bring my camera, take pictures.
But somewhere along the way, I actually got pretty good at it. There has always been this craving within me to capture the people and places that are so different from my own everyday life. It's amazing when you think about it. The millions of people living all over the world, and how, if we're lucky, we can travel to some of these places and make our own lives a little bigger. Our life experiences become infinitely richer by learning about other cultures and people and the places they call home.
Did you know I was a flight attendant in another life?
Right out of college, when I believed I would be the next Barbra Streisand or Julie Andrews, I was a starving artist carving out a living working part time jobs, teaching voice lessons, auditioning for shows, living with my parents (thanks Mom & Dad). I loved pictures and loved taking them, but this was well before the digital age, and long before studying the art of photography was ever a thought. On a whim, I applied to be a flight attendant at Midwest Airlines, Milwaukee's hometown airline. (RIP, YX). I soared through the interview process and after 6 weeks of intensive training, found myself with a shiny new pair of wings.
For 4 years, I flew all over the country. Day trips to NYC. 24 hours in San Diego. Walking the hills of San Francisco. Eating the best cajun meal of my life in some tiny town in Louisiana (did you know they DEEP FRY dinner rolls?? gah. so good). I met many interesting people. There was one pilot in particular, a senior Captain, who I so enjoyed working with. He was kind (so kind) and fun, and enjoyed sharing his own travel experiences with the crews he flew with. Never one to "slam click" (referencing flight crews who would go straight to their hotel room and stay put until the next flight)…this Captain would round up his crew and show them the sites of San Fran or take them for amazing Italian food in Boston's North End.
Everyone loved Cap'n Tony. But I'm the lucky one who got to marry him.

Fast forward 10 years.
What should we do for our 10th Anniversary? Let's go to Italy!
While Cap'n Tony and I had traveled extensively in the US, Mexico, and the Caribbean, we had yet to go to Europe. We had been talking about it for years, but the timing was never quite right. And here's the thing, you can always find a reason NOT to travel. It's not the right time. It's so expensive. Work is so busy. Yadda, yadda, yadda. But, think of this. When you get to the end of your life, will you say, "Remember that extra thousand dollars we had in the bank?" or will you say "Remember eating gelato in front of the Trevi fountain and then tossing in our coins to ensure we would return to Rome?" It's your choice, of course. But I can tell you which one I'd choose.
Travel through the Heart of Italy…
We spent 10 amazing days traveling through the Heart of Italy…Rome, Volterra and Lucca in Tuscany, the Cinque Terre, Florence…and we couldn't get enough. My camera was by my side the entire time to capture each and every moment. There is a delicate balance when you are traveling to capture these moments with your camera, but also to see with your eyes. How do you tell a story, rather than just take a bunch of random snapshots?

I tell our story as an American Girl in Italy on my photo-documentary travel website that I created for the 2015 Rick Steves scrapbook contest.  I won 2nd place in that contest. And I'll be honest, I thought I should have won 1st place. Humility is sometimes a bitter pill to swallow. However, this 2nd place win teaches me that sometimes there are other plans for us greater than what we can see.

Which brings m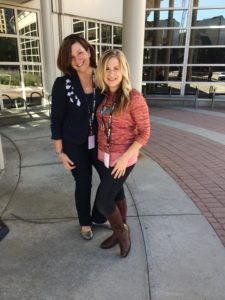 e to today, a day in which so many things come full circle. So many stories to tell, so little time. The reader's digest goes something like this…. girl with a camera decides on a whim to take a photography class online. Girl meets amazing instructor, and suddenly everything starts to click. Instructor becomes girl's photography mentor and girl's skills and confidence grow exponentially. Instructor launches photography education website. Instructor asks girl to write a course on travel photography.
Girl writes course and cannot contain her excitement over sharing it with the world.
My course on TRAVEL PHOTOGRAPHY launches TODAY at The Photographer's Element.
What's it all about? A 33+ page PDF bundle + bonuses available for immediate download.  In it, I share every bit of information you need to tell your OWN travel story. At $22, it's a steal, but here's the catch….it's only available for 5 days.
Available for 5 days only. August 8-12. $22.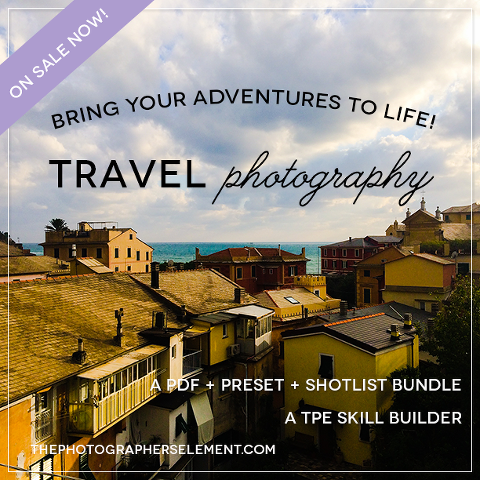 CLICK HERE for more information.
Tell your story. And then come back and share it with me. I can't wait.