"Beauty is not in the face; beauty is a light in the heart."
― Kahlil Gibran
On Saturday I finally met Lola. I was nervous because I wanted the day to be perfect for her. You guys. It was PERFECT. Lola is even more captivating than I could have imagined. She is full of light and love and joy and wonder. It radiated out of her.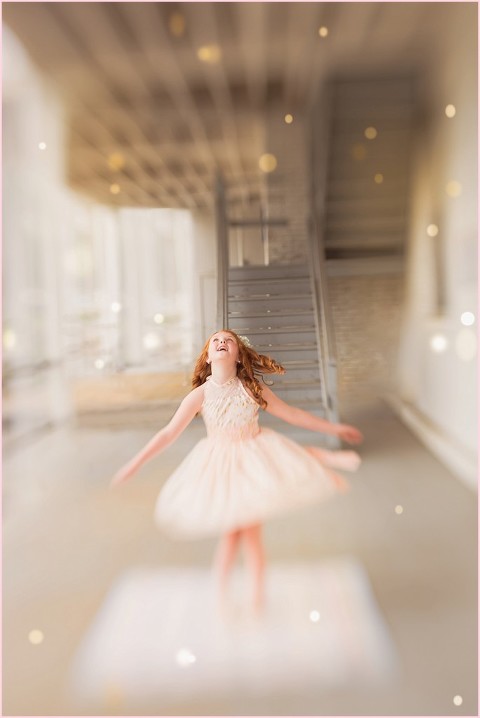 I didn't think there was anything that could top our day together, and then I found out that Lola's story will be featured in the Beauty Revived print magazine and online campaign for America's 50 Most Beautiful Children. I feel humbled and blessed to be able to share Lola and her story in such a real and amazing way. Remember back when I tried to talk myself out of doing this? I could not be more grateful for all the people who did not hesitate to say YES for Lola.
Now, because Lola will be part of the America's 50 Most Beautiful Children magazine, I've been asked to hold off posting all the images until the magazine comes out on August 10th. But I do want to share a few sneak peeks as well as some behind the scenes images from Saturday.
Lola was overwhelmed by all love she received from all of you. Her grandmother, Donna sent me this note on Sunday morning:
"Lola kept saying, I can't believe all these people who don't know me would do this!" Just incredible….I wish I was a better photographer…that Wonder you caught, I watched that through the whole process of opened things. And there were so many letters. People really put their hearts and souls into words for Lola. She would read the letters to me and just say, "Wow.' Embarrassment of Riches in the very best way!
You all are amazing, from the bottom of my heart, from the bottom of Lola's, thank you.
Here are a few images from our magical day last Saturday… I'm hoping this tides me (and you!) over until August 10th when I can share them all with you! Enjoy!
Lola opened a few gifts in the morning before we set off on our adventure. She was full of wonder and awe at each and every thing. It was so cool. "Nama, look! Stickers! Look! Buttons! Look! Ribbon!" She loved it all.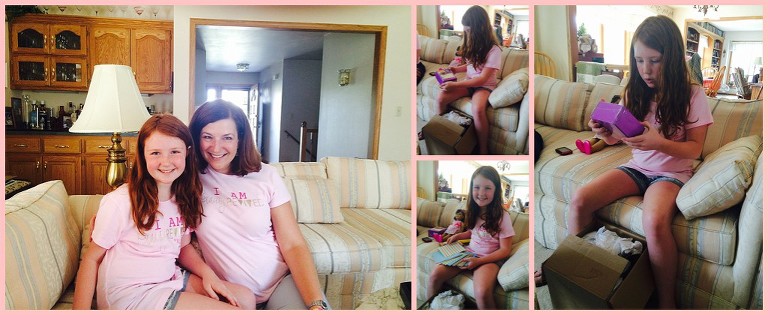 A stop at Starbucks was in order and a Pink Cake Pop for Beauty Revived was the treat of choice for our girl.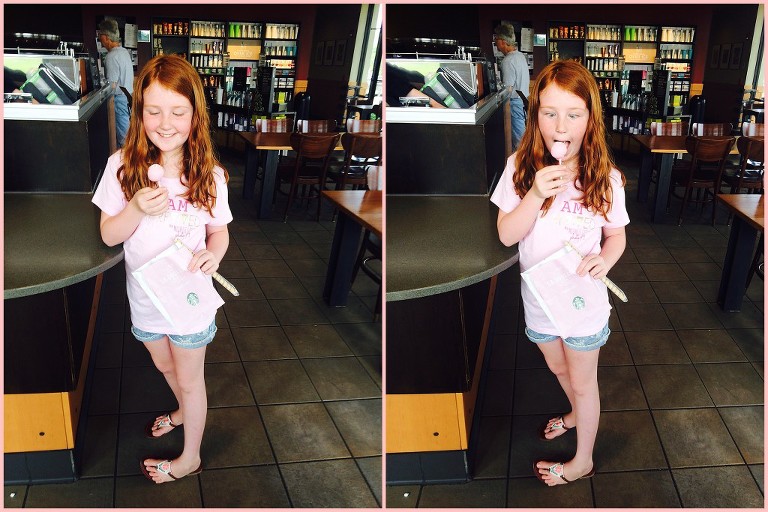 Next it was time to get dolled up. The masterful team at Neroli Salon & Spa in Brookfield took such great care of Lola on Saturday. Thank you all!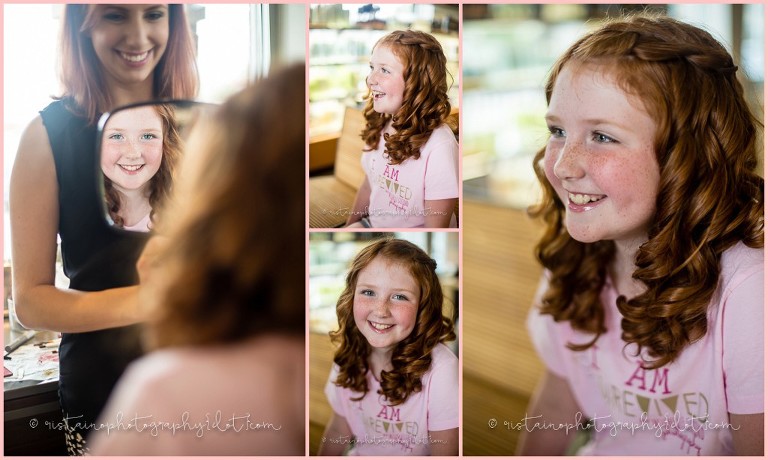 So grateful to Andrea and Erin who were the first to jump on board and say YES! Andrea did a beautiful job with Lola's gorgeous ginger locks and Erin absolutely blew me away with the custom dress she made for Lola. You can see more of Erin's beautiful work here.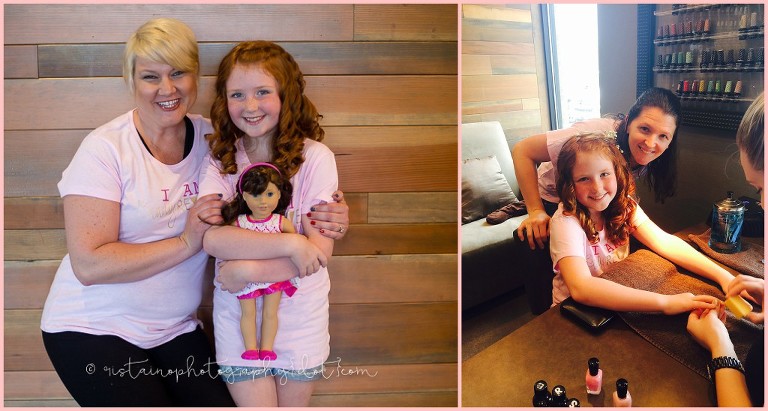 Now that we were all dolled up, it was time to head to Noodles for lunch, of course! Then we were on our way….
First stop….the grounds of the Sharon Lynne Wilson Center. The mosquitos were out in force and they found Lola as sweet as I did. We didn't last too long here, but managed to get some great shots.  Next up, the Milwaukee VA Grounds. I can't believe I've never been here. It was like taking a step back in time. Lots of old buildings in various states of disrepair. The grounds were virtually empty and we seemed to have our run of the place. In other words, it was perfect.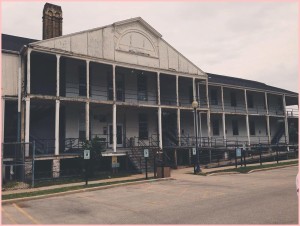 Here is one of the buildings were we took many of the photos. I know it doesn't look like much, but it was pretty magical. Yep, we find beauty in strange places sometimes.
My dear friend and photog extraordinaire Jessie of Simple Soul Photographs was on hand to capture all the behind the scenes footage. She was kind enough to donate her time to #OperationLoveLola and has allowed me to share those photos here.
OK, ok, I'll stop talking and get on to the photos!
Without further adieau, here are the sneak peeks from our Beauty Revived session!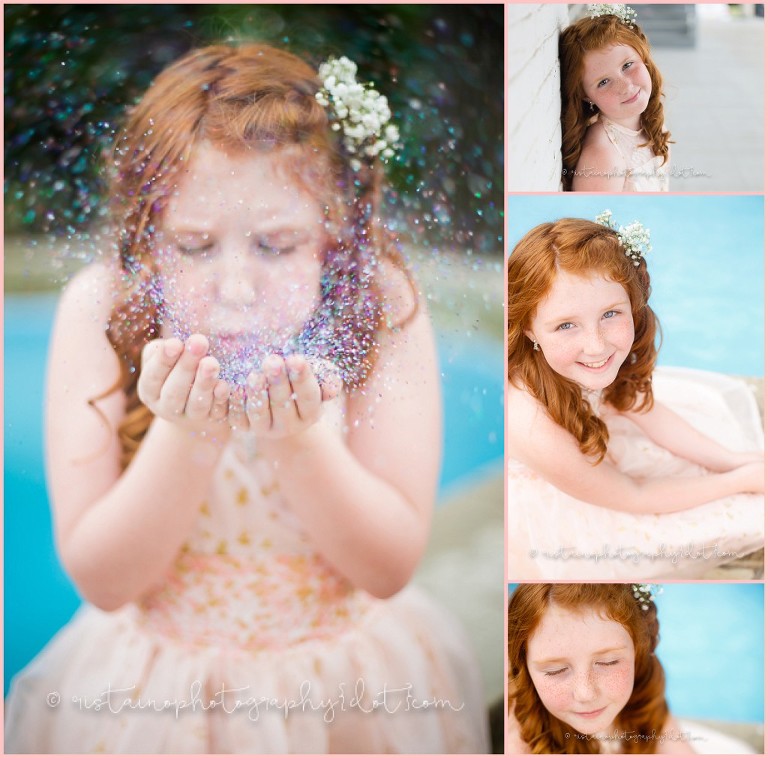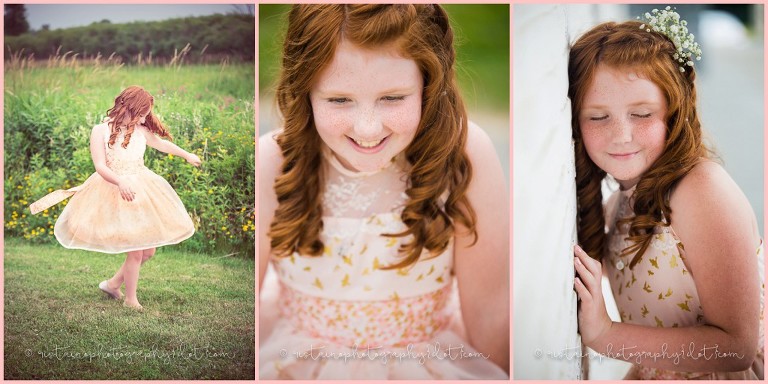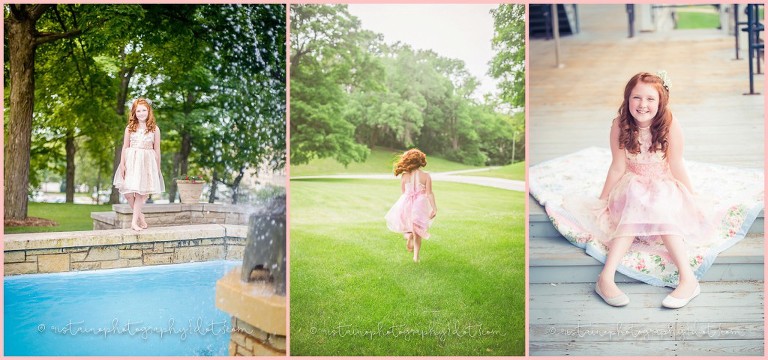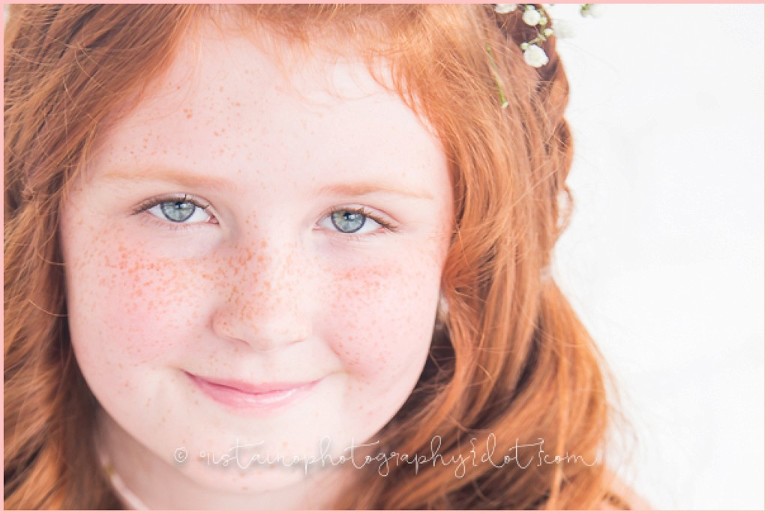 And some great behind the scenes footage from Jessie!
Look! This is me & Jessie. (Yep, that's glitter all over my face!)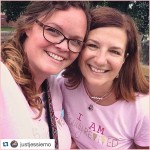 And last, but not least…me & sweet Lola. She stole my heart. For reals.
I can't wait to share her story and her full session with you. I promise to let you know as soon as it's been published and how to get a copy of the magazine. If the rest of the kids are half as amazing as Lola, it's going to be spectacular.
Check back on Monday for my interview with the lovely Michelle Gifford, founder of Beauty Revived. There are exciting things in store for the Revivers.
What is YOUR definition of REAL beauty? Tell me in the comments. I want to know!
be joyful,
I am now accepting new portrait clients. Contact me today to reserve your session!